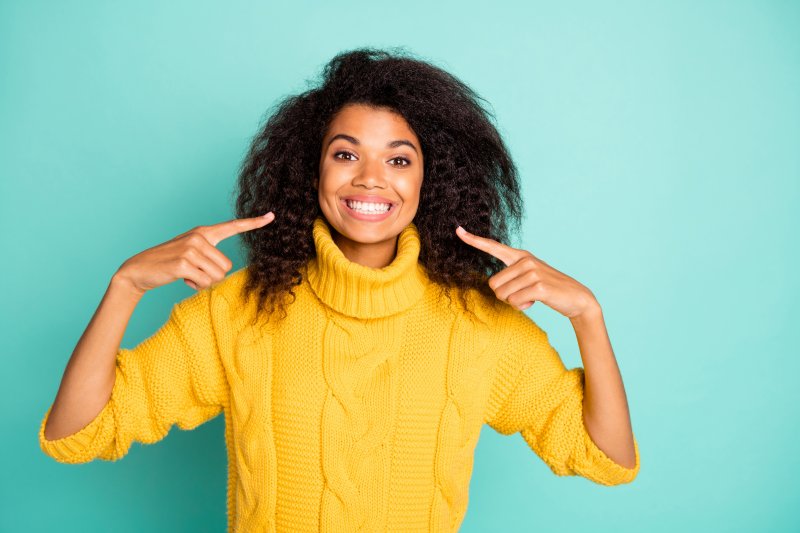 Contrary to popular belief, a healthy smile is not always blindingly white. The color can range from white to light-yellow and still be in good health. Tooth discoloration and staining on your teeth are completely normal occurrences that happen for several reasons. Even though a discolored grin is common, it can still make people feel self-conscious. Luckily, most stains are easily treatable and preventable! Your cosmetic dentist in Upper Arlington explains the different types of tooth stains, their causes, and how you can restore a bright smile.
What Are the Types of Tooth Stains?
Tooth discoloration can result from surface stains, changes in your tooth material, or a combination of both factors. Let's take a closer look at the three main types of staining:
Extrinsic
An extrinsic tooth stain affects only the enamel, or the surface of the tooth. It develops when staining particles build up in the film of protein that covers the tooth enamel. Usually, this type of discoloration responds well to regular dental cleaning and by brushing teeth with a whitening toothpaste. The most common causes of extrinsic stains are:
Foods (chocolate, red sauces, berries)
Drinks (coffee, tea, red wine, soda)
Tobacco use
Intrinsic
An intrinsic stain occurs below the surface of the tooth. It happens when stain-causing particles work their way through the exterior of the tooth and accumulate within. Although this type of stain is a bit more challenging to remove, it can still be done with professional bleaching products. Intrinsic discoloration is often caused by:
Certain medications
Trauma or injury to a tooth
Tooth decay
Excessive fluoride use
Genetics
Age-Related
Over the years, the enamel on your teeth becomes worn down and exposes the core tissue (dentin) more, resulting in a yellowed appearance. Even if you take excellent care of your teeth, you will still have problems with them as you get older. The age-related discoloration is often caused by both extrinsic and intrinsic factors.
How Your Dentist Can Help
Tooth stains are an inevitable part of the aging process. Luckily, your cosmetic dentist can brighten your smile and reduce discoloration with the following options:
In-Office Teeth Whitening – Patients with severe staining and discoloration benefit the most from this option. Your cosmetic dentist will use a powerful bleaching gel to lift all those stubborn stains. In just one hour, you'll have teeth that are up to 10 shades brighter!
At-Home Teeth Whitening – The take-home whitening kits can help you achieve your desired results from the comfort of your home. It will include custom mouth trays and a professional bleaching gel.
Porcelain Veneers – If teeth whitening treatment isn't successful, porcelain veneers can cover severe stains and other problems in no time. Once bonded, you can enjoy a radiant new smile!
Cosmetic Bonding – Do you have a minor stain? Cosmetic bonding can hide it and restore a beautiful appearance – all in as little as one hour!
Don't feel discouraged if you have tooth stains. It can happen to anyone for many different reasons! Thanks to cosmetic dentistry, it's entirely possible to make your pearly whites look their very best once again.
About the Practice
At Artistry Smile Center, our goal is to make every dental experience relaxing, soothing, and welcoming. We go above and beyond to make sure you're well taken care of! If you have tooth stains, our cosmetic dentist can eliminate or reduce them with cosmetic dental treatment. We'll help restore your smile and confidence! Visit our website or call (614) 451-7393 to schedule a consultation.