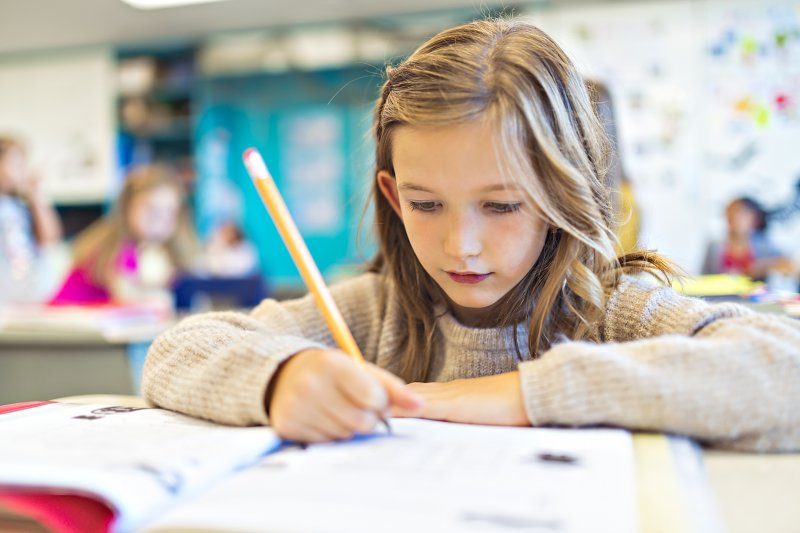 Summer is officially coming to an end, which means the first day of school is right around the corner! You're probably starting to prepare your child for their return to the classroom. However, there's one thing you won't find on their school supply list that you should absolutely prioritize – their oral health. Although it might not seem obvious, a healthy smile can significantly improve their academic performance. Read on as your children's dentist in Columbus explains how.
How Does Oral Health Affect Academic Performance?
Did you know that your oral health can affect several different aspects of life? It may surprise you to learn that academic performance is one of them. A recent study found that children with dental problems were significantly associated with reduced school performance and psychosocial well-being. If you're wondering why, it's because they're more likely to be absent from school and have problems in the classroom. Luckily, maintaining good oral health can prevent them from experiencing these negative effects.
Back-to-School Oral Hygiene Tips
Before your child returns to school, go over the following tips with them:
Establish an Oral Hygiene Routine
Proper dental care is essential to keep the teeth and gums healthy. However, being diligent about brushing and flossing is the only way to prevent oral health problems effectively. You can help your child establish a routine by encouraging them to brush and floss their teeth at the same time every day. Eventually, the habits will become so ingrained they can do it in their sleep!
Make Brushing Fun
Does your child dread brushing their teeth? If so, it could be because they find the task mundane. To get them excited, consider getting them a toothbrush that lights up, plays music, or has their favorite character on it. It'll give them something to look forward to every time they brush!
Pack Healthy Lunches
Unfortunately, many school lunches contain excessive hidden sugars. Over time, frequent consumption can wreak havoc on your child's teeth. Keep their smile safe and consider packing them a lunch full of nutritious foods like deli meats, cheese, and fresh fruits and vegetables.
Protect Against Oral Injuries
Does your child partake in school sports or other recreational activities? Make sure they wear a mouthguard every time they participate! It'll protect them against oral injuries like chipped or broken teeth, fractured roots, and cut lips. You can purchase a mouthguard at any sporting goods store or custom-ordered from your dentist.
Schedule a Dentist Appointment
Ideally, your child should be seeing their dentist bi-annually for routine cleanings and exams. Be sure to schedule a visit at the beginning of the school year! It allows their dentist a chance to detect, prevent, or treat any oral health problems that could interfere with their time in school.
Is your child ready for the new school year? Follow the tips outlined above to help them kick off the academic term with a strong and healthy smile!
About the Practice
At Artistry Smile Center, we combine old-fashioned hospitality with modern techniques to provide you with exceptional care beyond what's anywhere else. Our primary goal is to help patients achieve their absolute best smiles as conveniently and comfortably possible. Before your child returns to the classroom, bring them in for a checkup so we can make sure their oral health won't get in the way of their studies. Visit our website or call (614) 451-7393 to schedule an appointment.