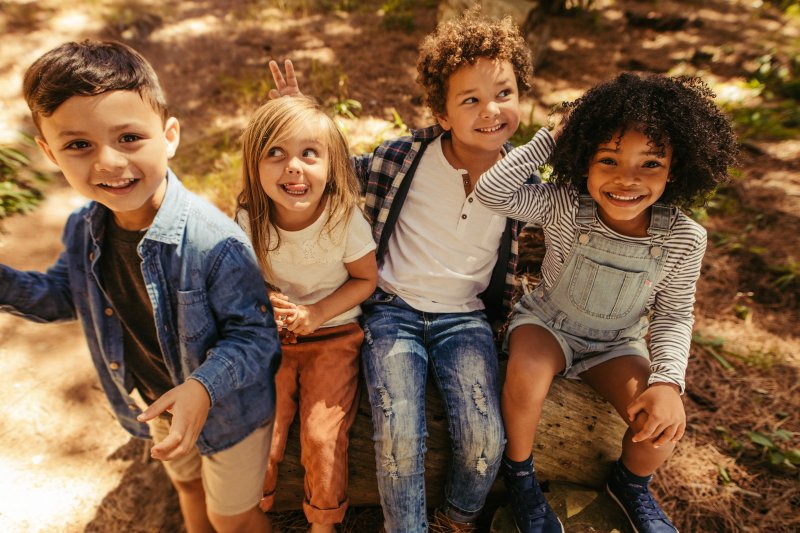 February is Children's Dental Health Month, which is a time dedicated to raising awareness about how important it is for little ones to maintain good oral health. You can help your child keep their mouth healthy by ensuring that they brush twice and floss once per day, having them drink plenty of water, and feeding them a dentist-approved diet of fresh fruits and veggies, lean meat, fish, and low-fat or fat-free dairy. There are also various products that can help them achieve a gorgeous grin. Read on to learn about five fun ones!
#1: Cool Toothpaste and Dental Floss Flavors
If your child isn't a fan of minty toothpaste and dental floss, why not buy them fun alternative flavors? There are all kinds of interesting types of toothpaste, including licorice, waffle, cupcake, pickle, bacon, ranch dressing, chocolate, banana, vanilla, cinnamon, cola, watermelon, and honey. You can also buy tubes of toothpaste that feature colorful or cool designs and your little one's favorite characters on them. This will make them more interesting to your child, which will make it more enjoyable for them to take care of their smile.
#2: Fun Toothbrushes
Children's Dental Health Month is the perfect time to get your child an electric toothbrush if they're ready to make the switch. Electric toothbrushes are more effective at removing plaque than manual ones. Some of them even light up, play music, or feature fun characters, colors, and designs. Some even have timers that count down so your child can more easily brush for a full two minutes!
#3: Crazy Flossers
Though getting your child to brush twice per day may be difficult, convincing them to floss can prove to be even more of a challenge. Fortunately, disposable flossers that come in fun shapes and different sizes are sold by several manufacturers. These will be able to hold their attention and make them more likely to want to complete an oral hygiene routine.
#4: Fun Mouthwash
Though brushing and flossing are an important part of keeping their smiles healthy, most children prefer to rinse out their mouths. You can encourage them to stick with this part of their routine by purchasing ones that feature their favorite characters or that come in flavors like bubblegum, pink lemonade, peach, berry, and melon. Choose a mouthwash that contains fluoride to strengthen their enamel against cavities, and make sure that they know that it should be spit out after they rinse.
#5: Plaque Disclosing Tablets
These contain a harmless dye that reacts with the plaque that's still on your child's teeth once they've finished brushing. They help your little one identify which areas they need to clean better, which will allow them to remove more plaque from their pearly whites and have a healthier smile.
This Children's Dental Health Month, have your child try out these five products. They may find something that makes maintaining their oral health more fun!
About the Practice
Does your little one need help keeping their pearly whites healthy and functioning properly? Artistry Smile Center offers a range of exceptional services that can assist them in keeping their oral health in check. They administer care to the whole family and can help your child achieve a smile that will make them the coolest kid in school! Call Artistry Smile Center's office at (614) 451-7393 or visit their website to learn more about their many service offerings or to set up an appointment.