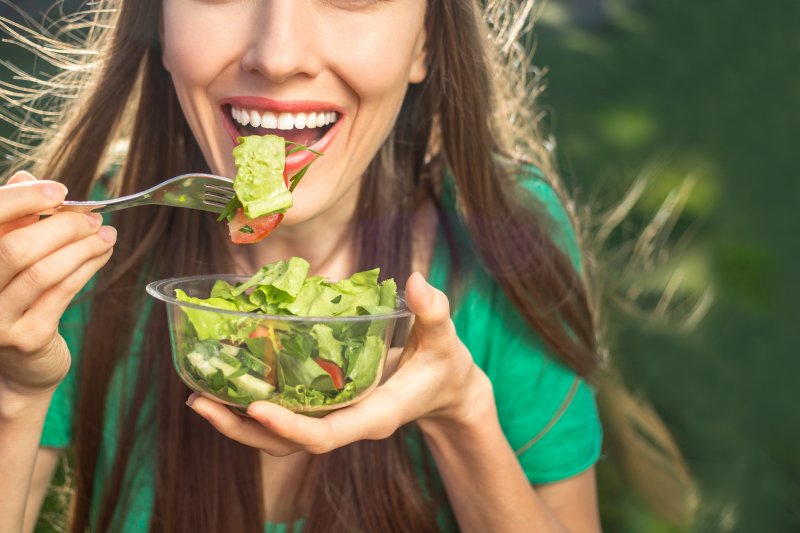 Every time you eat, it can pose a threat to your oral health. That's because there are always bacteria present in your mouth, and whenever you consume an item, they will flock to the area to feed on any leftovers. This is especially the case when you eat foods that are higher in sugar. Are there better options for you to consider, or do you have to settle for "rolling the dice" with every snack? Your dentist in Upper Arlington says there are some healthier ways to satisfy your hunger and even any sweet cravings. Read ahead to get the scoop!
Yes, Your Food Choices Matter
The higher your sugar intake, the greater the chance is of having tooth decay. That's because the items rapidly convert to glucose, which is sugar in its simplest state. This attracts oral bacteria, and, if allowed to fester, they'll form plaque, a sticky substance that clings to the teeth and along the gum line. The good news is that you're not expected to maintain a bland and lifeless diet just to protect your teeth and gums. It just takes a little planning to be healthier.
Some Key Alternatives
Here are some healthier options to consider that can satiate your hunger and sweet cravings in a less detrimental way:
Eat more fruit – You can find several fruits that are super sweet yet cause far less havoc on your oral health. That's because they contain natural sugars that the body recognizes and can better process, which will slow down the bacteria activity in your mouth.
Up the protein – When you snack on foods that are higher in protein like beef jerky, turkey sausage and cheese, you'll be helping to reduce the acidity in your mouth. Thus, you can look forward to healthier teeth and gums.
Purchase sugar alternatives – You don't have to rely on sugar as a sweetener. Look for alternatives like xylitol or stevia.
Add more vegetables to your regimen – Vegetables are amazingly versatile in that they can provide key nutrients (like fiber and complex carbohydrates), satiate your hunger and even fulfill a desire for something sweet. For example, you can get loads of deliciousness from items like sweet potatoes and corn.
Oral Hygiene as the Perfect Combination
In addition to making healthier food choices, it's vital that you practice excellent oral hygiene, which must include brushing and flossing to be effective. You should perform both activities at least two times a day to help to control the buildup of plaque.
Additionally, make it a habit to visit your local dentist every six months for checkups and cleanings. These appointments, which typically only take around an hour of your time, will help to ensure that your teeth and gums are as strong and functional as they can be. You'll also be able to receive valuable tips that will immediately pay off. The future of your oral health starts with the steps you take today!
About the Author
For over 20 years, Dr. Angela Courtney has been providing superb dental care. One of her main focuses is prevention, because she knows just how important it is to stop problems before they fully develop. A graduate of the Ohio State University College of Dentistry, Dr. Courtney provides exceptional preventive care at Artistry Smile Center, and she can be reached for more information through her website.