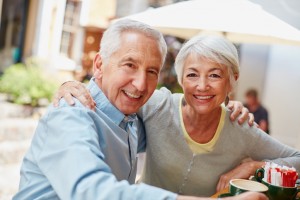 Are you searching for a solution to your missing teeth? Your self-image and oral function are suffering? Can you do better than fixed bridgework or conventional dentures? Your best option could be tooth replacement with dental implants in Upper Arlington from Artistry Smile Center. Dr. Angela Courtney and Dr. Samuel Kiner, dentists in Upper Arlington, have the expertise and aesthetic skills to place these amazing prosthetics for a smile that functions as well as it looks.
The Fallout after Tooth Loss
In addition to aging your facial appearance, smile gaps weaken remaining teeth and change their alignment as they drift into the spaces caused by tooth loss. Underlying jaw bone and gums shrink, shortening bite height, wrinkling skin and decreasing the ability to speak and eat normally.
Dr. Kiner and Dr. Courtney do not want you to suffer with a gapped smile. They frequently recommend evaluation for dental implants as the most successful, longest-lasting and most natural feeling artificial teeth available. And, dental implants replace one, two or even a full set of teeth for uncompromised chewing, speaking and appearance.
Dental Implant Dentistry at Artistry Smile Center
Dr. Courtney and Kiner deliver dental implants for patients with good oral and systemic health. Adequate jaw bone density is vitally important, too, as the implant devices reside right in the jaw bone.
While smokers may receive dental implants, quitting tobacco usage is best for overall health and for long-term retention of these artificial teeth.  After a complete dental examination and digital x-rays, the dentist can commence with the implant procedure.
The dental implant device looks just like a screw or metal cylinder. After using local anesthetic to numb the area, dentist incises the gums and screws the titanium device into the patient's jaw bone. The surgery is a comfortable, brief, in-office procedure. Healing, however, takes many weeks to ensure the implant and bone fully fuse together through a natural process called osseointegration. Osseointegration is key to implant retention and stability.
When the implant site is totally healed, the individual returns to the office for an extension post and lifelike porcelain crown. The dentist ensures the bond, fit and bite of the dental implant restoration.  Multiple implants may be used to anchor fixed bridgework or a full set of dentures.
Advantages of the Dental Implants
Dental implants offer many benefits over other tooth replacements. While they are more expensive initially than traditional bridgework, partials or full dentures, dental implants stay in place for decades and usually need no replacement.  Their advantages include:
Versatility Dental implants replace one, two or even a full set of teeth. Implant-supported dentures give the patient an amazing smile and exceptional oral function.
Retention and predictability Traditional replacements last up to 10 years. Dental implants are a one-time treatment, having a success rate of well over 90 percent according to the Academy of Oral Implantology.
Simple care Dental implant patients brush and floss their artificial teeth just as they would natural ones. Plus, semi-annual check-ups and professional cleanings at Artistry Smile Center maintain oral health and spot problems before they get out of hand.
Strengthening of the jaw Bone fuses to the implant device through osseointegration. The natural forces of chewing and biting exercise the jaw, keeping it dense and sizable.
Are You a Candidate?
Please schedule a restorative dentistry consultation with Dr. Courtney or Dr. Kiner. Their experience and many hours of continuing education give them the ability to determine if dental implants are right for you.