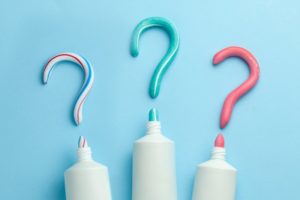 Veneers are an amazing way to achieve the smile you've always wanted. They can correct a wide range of dental imperfections, including staining, discoloration, chips, cracks, gaps, and even misalignment. Best of all, your new pearly whites can last over a decade with proper care and maintenance! One of the ways you can help your veneers last as long as possible is by using the correct toothpaste. Read on to learn what you should consider when picking out the right kind of cleaning products for your veneers.
Which Toothpastes Can Damage Veneers?
While the thin porcelain coverings of veneers are very durable, it is still important to use gentle toothpaste when cleaning your teeth. If you use harsh products, you risk damaging your restorations and shortening their lifespan.
Here are two types of toothpaste you should avoid using on veneers:
Abrasive toothpastes. When shopping for toothpaste, check the ingredients to ensure it doesn't contain abrasive agents. Many of them have components like baking soda to help remove plaque and polish teeth. However, they can scratch the surface of veneers, potentially ruining their shine and texture.
Whitening toothpastes. Generally, it's best to not use toothpastes that advertise a whitening effect because they typically contain hydrogen peroxide, which can damage the outermost structure of veneers.
How to Choose the Right Toothpaste for Your Smile
Although there are specialty toothpastes designed for dental restorations that you can purchase, they are not your only option! You can simply choose a gentle toothpaste that's effective at cleaning your new smile. When choosing a product with your veneers in mind, here are some helpful guidelines to follow:
Avoid toothpastes with abrasive ingredients like baking soda and hydrogen peroxide
Look for gel formulas rather than paste
Choose cavity-fighting toothpastes
Stay away from whitening toothpastes
The Importance of Good Oral Hygiene
Choosing the right toothpaste is certainly important for a healthy smile. However, what's even more important is practicing proper oral hygiene. Brushing your teeth twice a day, flossing daily, and rinsing every day with an ADA-approved mouthwash are excellent practices that'll help prevent the accumulation of harmful oral bacteria. When brushing, make sure you take your time and use small, circular motions along each surface of every tooth. Don't forget to hold your toothbrush at a slight angle to thoroughly clean along the gum line!
As you can see, the type of toothpaste you use does make a difference on your teeth. By taking the time to choose the best one for your smile, your veneers will remain in tip-top shape for years to come!
About the Practice
Artistry Smile Center provides general and aesthetic dentistry through its two experienced dentists. Their goal is to provide a spa-like experience while expertly crafting your dream smile! They offer a range of services, including cosmetic treatments like veneers. To schedule a consultation, contact them through their website or call (614) 451-7393.