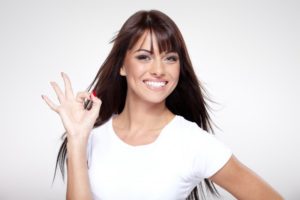 It's the time of year for New Year's resolutions! Have you decided that you want to get healthier, save money, or become more confident in the upcoming year? Instead of trying to run five miles every day or stick to an impossible budget, why not start by improving your smile? Teeth Whitening in Upper Arlington is an easy and effective first step on your journey to become a better you. Whiter teeth can help you accomplish all the following New Year's resolutions while giving you a dazzling smile.
Get Healthier
Staying motivated to get healthier in the New Year can be difficult. Studies show that many people give up their resolutions by mid-February simply because they haven't seen any payoff. Teeth whitening services offer dramatic results that you can start to enjoy immediately after your dental appointment.
To maintain their bright new smile, a majority of people naturally become more enthusiastic about good dental habits like brushing and flossing. This boosts their oral hygiene, reducing the risk of systemic diseases like heart disease. Whiter teeth can be the first important step to improving your overall health!
Become More Confident
If you don't smile often because you're embarrassed by the color of your teeth, you might look and feel nervous or unsure of your abilities. When you're no longer bashful about how your teeth look, you'll find yourself smiling more. Smiling triggers the release of chemicals like dopamine and endorphins in your brain, helping you to feel happier, more relaxed, and more sure of yourself.
Studies conducted by the Oral Health Foundation show a clear connection between a beautiful, healthy smile and a person's confidence. The more participants enjoyed the look of their smile, the more self-confidence they reported. Other surveys indicate that people who smile are perceived as more confident and trustworthy than those who don't!
Save Money
Did you know that teeth whitening is the number one most requested cosmetic service? With all the benefits of a brighter smile, it's easy to see why whiter teeth are in such high demand. In-office teeth whitening treatments or at-home whitening kits are an affordable way to enhance several aspects of your life without breaking the bank. You can talk to your dentist in Upper Arlington about which plan is right for you and your wallet.
The New Year means it's time for a new you and a new smile. A professional teeth whitening treatment from your dentist can help you can achieve all your New Year's resolutions with a sparkling smile!
About the Author
Dr. Angela Courtney is a preventive, restorative, and cosmetic dentist in Columbus, OH at Artistry Smile Center. She is a graduate of the Ohio State University College of Dentistry and has completed numerous courses of continued education at the Las Vegas Institute for Advanced Dental Studies. She is dedicated to helping her patients achieve the beautiful, healthy smiles that they've always wanted using a wide variety of cosmetic services, including teeth whitening. If you'd like to know more, she can be reached at her website or at (614) 451-7393.