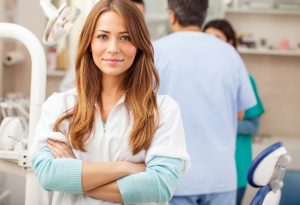 After moving to Columbus for your new job, you're searching for new healthcare providers. It's always a pain when there are thousands of options, but you have a pretty good idea of what you're looking for in a dental professional this time around. You want to choose a female dentist in Columbus because you feel you'll be listened to and better taken care of. Read on for some benefits about seeing a woman dentist in your area and other tips while you're on the hunt.
Pioneering Women In The Dental Workforce
Women dental students in graduate programs commonly finish in less time than their counterparts. Hard work ethic and ambition have a large part in this. Because the average woman dentist is younger, they're pioneering the workforce and focusing on giving their patients the highest quality of treatment by using the most advanced technology and treatment. Not to mention, they'll most likely have more in-field experience than dentists who are men the same age because they were able to start practicing sooner.
Preventive Strategies To Keep Your Smile Healthy
Studies have found that women dentists are more likely to focus on providing and recommending preventive techniques to their patients early on, helping them prevent larger oral health problems from occurring. Some of these recommendations include things such as fluoride treatments at home. As a patient, this can save you time and money in the long run.
Taking The Time To Listen To Patients
If you're a patient that suffers from dental anxiety and is looking for a dentist that listens and takes the time to understand your hesitations and concerns, a woman dental professional may be the best bet for you. Various studies have shown that women dentists can be better listeners when it comes to their patients. This can help you feel more comfortable with the treatment you're receiving and well taken care of.
Supporting The Presence Of Women In A Historically Male-Dominated Profession
In 2005, only about 19% of dentists were women. In the last decade, that number has increased to just about 30%. Also, nowadays, 56% of solo-owned private dental practices are owned and run by women. This is a huge accomplishment, and if you're a woman, you can understand how difficult it is to climb up in a male-dominated profession, so you want to support them! Women in healthcare provide a unique perspective that can help you trust that you're receiving the reliable care you need.
Looking For A Dentist That Does It All
While you're on the hunt for a new dentist, an important factor to look into is whether they offer comprehensive care or not. Consolidating all of your dental care under one roof can make your life run more smoothly. Between being a career-woman, a potential parent, or an entrepreneur, your life can get hectic. Being able to get all of your treatment in a single woman-run practice can take a lot of weight off your shoulders!
About the Practice
Drs. Angela Courtney and Christy Cox provide reliable treatment to their patients at Artistry Smile Center. They're both passionate about helping their patients achieve their goals and smile desires and take the time to listen so they can provide the best individualized care. As two highly-trained and experienced women in their field, you can rest assured that you're in great hands. For questions or to schedule an appointment, visit their website or contact 614-451-7393.