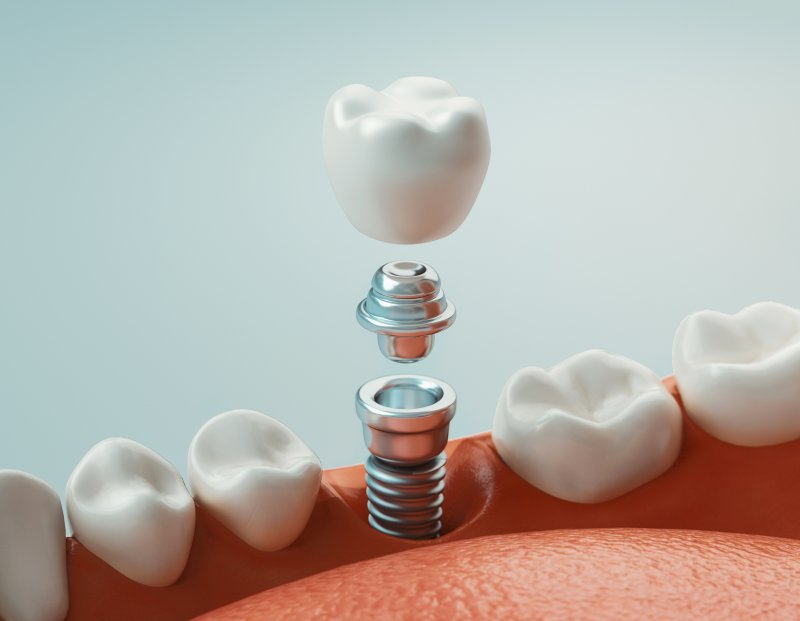 If you have missing teeth, you might be researching solutions to restore your smile. Well, dental implants are an excellent option to consider! They're the most permanent method of tooth replacement, helping patients eat, speak, and smile with complete confidence once again. But before you can start your journey, you will need a consultation with your dentist to ensure you're a good fit for treatment. During this initial visit, they may throw around some confusing words. Luckily, we've got you covered – here's a brief guide to dental implant terms you should know.
Dental Implant
A dental implant, or a fixture, is a medical device that is surgically inserted into the jawbone to support a bridge, crown, or denture. Once it fuses, it mimics the function of the missing tooth root and creates a lasting foundation to support a new artificial tooth. Most dental implants can last a lifetime, making them one of the most permanent solutions for missing teeth!
Restoration
A restoration, or a dental prosthetic, is the implant-supported crown, bridge, or denture that is added. Usually, they're made from high-grade porcelain, a material that closely mimics the color, texture, and strength of your natural enamel.
Abutment
An abutment is a connector that your dentist will attach to the top of your dental implant. It serves as an anchor for the final restoration (crown, bridge, or denture), holding it firmly in place.
Implant-Retained Dentures
Dentures are the most traditional method of tooth replacement. While some can be removed daily for cleaning and storage, others (like implant-retained dentures) are permanently attached to the mouth. The dentures are secured with dental implants, providing stability, and preventing bone loss that often results from the standard removable prosthetics. Plus, it helps stimulate the jawbone to keep it healthy and full!
Osseointegration
Osseointegration is the natural process that allows a dental implant to fuse with the jawbone. It helps create a strong and durable replacement tooth, ensuring that you can eat and speak with ease. The term derives from Greek and Latin words meaning "bone" and "to make whole".
Titanium
Most modern dental implants are made of titanium, a durable but lightweight metal. It's the preferred material mainly because very few patients are allergic to it. Plus, it can easily ossify with the bone, producing strong and long-lasting results.
Zirconia
Zirconia is an excellent option for the small percentage of people who are allergic to titanium. Since these implants have no prosthetic connections, the risk of bacteria growth is lower. Patients also find that they have better gum health with Zirconia implants!
Are you worried that your dentist will sound like they're speaking in a foreign language during your consultation? Don't worry – they'll gladly review or explain any dental implant terms you should know. After your visit, you'll feel confident and ready to move forward with your journey!
About the Practice
At Artistry Smile Center, our team is committed to providing patients with exceptional, top-tier, individually tailored dental care beyond what's anywhere else. We use the latest techniques, materials, and technologies to help you achieve a smile you'll proudly show off. If you have missing teeth, we can restore your smile and confidence with dental implants. We'll do the best we can to help you fully understand the process. Visit our website or call (614) 451-7393 to schedule a consultation.