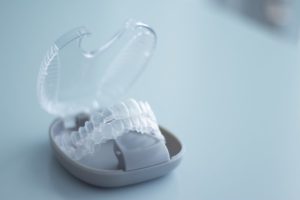 The results that patients get from Invisalign in Upper Arlington are life changing, but that doesn't mean that they didn't need to make some changes in their daily life to achieve them. Although Invisalign is known for being the most comfortable, fast, and easy orthodontic treatment, setting realistic expectations of what the process will be like can help you feel prepared to take it on. Read on for six Invisalign truths you should know before you start wearing your aligners.
Just Because They're Removable Doesn't Mean You Should Take Them Out
One of the most convenient parts about Invisalign treatment is that the aligners are removable, which means you can take them out of your mouth whenever you want. However, keep in mind that isn't an invitation to remove them all the time.
To achieve the results you want and stick to your cosmetic dentist's timeline, you'll need to wear them for at least 22 hours each day. That pretty much means that the only time you'll have to take them out of your mouth is when you're eating meals and cleaning them. The more diligent you are about this, the faster your treatment will pass by.
It's Not the Best Orthodontic Treatment for Everyone
Invisalign is not for everyone. For people with severe or complex orthodontic issues like major bite problems, metal braces may be the easiest and fastest option for you. That's why it's important to visit your dentist for a consultation. During this appointment, they'll let you know if Invisalign treatment is worth the investment.
Get Used to Carrying a Travel Toothbrush Everywhere
Because your aligners stay in your mouth most of the day, it's important to clean your teeth every time you eat and take them out. This will ensure that no food particles or plaque get trapped between the trays and your teeth, causing oral health problems to develop. To become more diligent about brushing after each meal, it's best to carry a travel toothbrush and toothpaste with you everywhere you go.
It May Not Be Your Intention, But You Might Lose Weight
You won't be able to eat with your aligners in, so if you like to snack throughout the day, you'll have to limit your habit, especially since you have to brush after every time you eat. Because of this, you may notice that your clothes feel looser.
It's a Virtually Painless Process
One feature that draws patients to Invisalign over metal braces is that it doesn't use metal that jabs and pokes your mouth. Aligners are made from a smooth plastic that won't irritate your oral tissues. That means that there's no need to carry orthodontic wax or over-the-counter pain relievers with you at all times.
Don't Clean Your Aligners With Toothpaste
It's important to clean and sanitize your aligners every day to reduce your risk of developing oral health problems over the course of your treatment. Doing this with toothpaste is a big no-no because it can create scratches and damage the trays. Instead, use a soft-bristled brush and a denture cleaner or clear antibacterial soap. This way, you can keep them looking virtually invisible.
The best way to learn whether Invisalign is the best solution for you is to visit your cosmetic dentist for a consultation. That way, if you have any concerns or questions, you can get a direct answer from a professional.
About the Author
Dr. Angela Courtney enjoys helping her patients feel confident and proud of their smiles, which is why she offers a large menu of comprehensive services, including cosmetic ones. With Invisalign treatment, she is able to improve her patients' oral health and confidence without sacrificing their comfort. She has an eye for detail and is committed to giving her patients long-lasting, high-quality results. For questions or to schedule a consultation, visit Artistry Smile Center's website or call 614-451-7393.