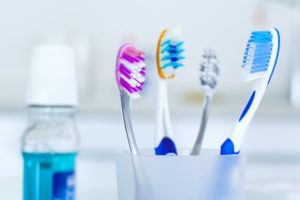 If you're diligent about keeping up with your oral hygiene and scheduling your semi-annual checkups and cleanings, knowing that your dentist in Upper Arlington is only open for emergencies may cause you some anxiety. Especially because professionals are unsure of when they'll be able to open their doors again. While you're self-isolating, it's important to take great care of your mouth and keep any tartar from building up between your teeth and gums. Read on for six helpful at-home oral hygiene tips during COVID-19.
Focus On Your Brushing Technique
Everyone grows up brushing their teeth how they were taught, and few people challenge that because they don't know that there's a specific technique they should be using. The American Dental Association states that you should hold your brush at a 45-degree angle to your gums and brush with a back-and-forth motion. Then, hold the brush vertically to get behind the front teeth, where plaque commonly collects.
Only Use Hygiene Products With the ADA Seal of Approval
Going to the store to restock your oral hygiene products can become an overwhelming task, especially if you're not sure what to look for. A great way to make your search easier and to choose products that are healthy for your teeth and gums is to look for the ADA's seal of approval. This ensures that the ingredients used in the products have been tested and proven to be safe and effective.
Don't Put Off Flossing
It's no secret that a huge portion of the population puts off flossing their teeth. However, this is a vital part of making sure that your teeth stay tartar-free. Be sure to gently floss at least once a day to remove food particles and plaque that are built up in hard-to-reach areas of your mouth.
Clean Your Toothbrush
There's no special tool or technique to clean your toothbrush. The ADA warns that keeping your toothbrush in a sealed off, tight space where it's covered will allow bacteria to breed, which is what you don't want. Be sure to rinse your toothbrush before and after each time you use it, and let it air dry. It's also a good idea to avoid sharing your toothbrush, especially during the COVID-19 pandemic.
Avoid Frequent Snacking
As you're sitting around your house trying to entertain yourself, you may turn to snacking on chips and cookies throughout the day to fill your time. Unfortunately, these foods aren't good for your oral health, and frequently eating will ensure that your saliva won't have enough time to wash away food particles that attract oral bacteria. If you're going to snack, try healthier alternatives, like fresh celery and peanut butter, or red bell pepper with guacamole. These don't contain high amounts of sugar or carbohydrates, which means that they'll be less likely to cause bacteria accumulation in your mouth.
Even though your dentist in Upper Arlington isn't open for preventive treatments at the moment, it's only a matter of time before they are. With these six at-home tips, you can keep your teeth and gums healthy, so when you are able to visit your dentist again, you won't have to treat pesky oral health problems.
About the Author
Dr. Angela Courtney enjoys helping her patients maintain optimal oral health by providing them with the knowledge and tools they need. She has always been passionate about dentistry and the artistry involved in crafting beautiful restorations or making sure that each of her patients' smiles look great. She is an active member of several professional organizations, allowing her to stay up-to-date with the latest techniques and technology that the dental world has to offer. For questions or to schedule an appointment, visit Artistry Smile Center's website or call 614-451-7393.