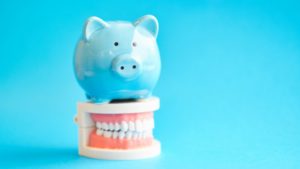 Everyone likes saving money. What if there was a way to save money by visiting your dentist in Upper Arlington before the end of the year? Fortunately, that's exactly what can happen if you have dental insurance! Most dental insurance plans run on a calendar year, which means that you only have a few months left to maximize on your benefits. Let's take a closer look at 5 reasons you'll want to visit your dentist before 2020 rolls around.
1. Meet Your Deductible
A deductible is the amount of money you have to pay out of pocket before your insurance company will start offering coverage. Of course, this varies from plan to plan, but most of the time, it's around $50 a year. You'll want to meet this deductible and get the most out of your dental benefits before the year ends and your plan essentially starts over.
2. Hit Your Yearly Maximum
Your yearly maximum is the highest amount of money that your insurance company will pay for your dental work within a full year. Again, this varies depending on what plan you have, but it should be more than enough for your biannual checkups and cleanings. The yearly maximum resets at the beginning of every year, but the benefits do not roll over. This is why you'll want to use your benefits soon while they're still active.
3. Possible Fee Increases
Some dentists raise their fees at the start of the calendar year to pay for more equipment and materials. While this means you will be getting higher quality care, it could make your copay increase at your next appointment. For this reason, you'll want to get your checkup and cleaning in before the end of the year to avoid a potentially higher copay.
4. You're Already Paying Your Premiums
Why pay for something if you're not going to reap the rewards? Believe it or not, many people pay their dental premiums but don't utilize them by going to their twice-a-year checkups. Even if you don't think anything is wrong with your oral health, it never hurts to get everything checked out and make sure you don't have any early signs of tooth decay, gum disease, oral cancer, or any other issue.
5. Dental Problems May Get Worse
Let's say you have a cavity so tiny that you don't even notice it. If you see your dentist every six months like you're supposed to, he or she can catch and treat it before it does any real damage. However, if you put off going to the dentist, that cavity can grow in size, so much so that you require a root canal or even a tooth extraction. Those procedures cost more money and take more time than a simple filling.
To save money and time in the long run, maximize your dental insurance benefits by seeing your dentist before the end of the year. Call and schedule an appointment today.
About the Author
Dr. Angela Courtney is a graduate of the Ohio State University College of Dentistry. She also chose the prestigious Las Vegas Institute for Advanced Dental Studies for her post-graduate education. Her confident and focused personality allows all of her Columbus, OH patients to feel at ease in and out of the dental chair. To book your appointment before the end of the calendar year, click here or call (614) 451-7393.