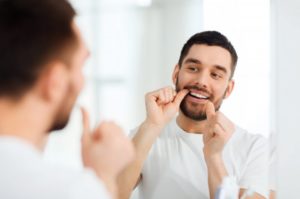 Many of us lead busy lives these days. Between work, family, school, and any other obligations, many of us let our oral health slide when things get too hectic. However, your dentist in Upper Arlington doesn't see busyness as an excuse to not taking care of your dental hygiene. Continue reading to learn 5 quick dental tips to integrate into your busy life.
1. Visit Your Dentist for Your Biannual Cleaning
There's no way that scheduling an extra appointment can save you time, right? Wrong. If you're busy, it's probably hard enough finding time to book a dental checkup and cleaning into your schedule, but believe it or not, it's definitely worth it.
When you go without brushing and flossing, plaque builds up on your teeth and gums, eventually hardening into a gross yellowish substance called tartar. Regular brushing and flossing can get rid of plaque, but tartar can only be removed by a dental professional. If you let tartar sit there for too long, it can cause severe tooth decay and gum disease that requires more expensive and time-consuming treatment. Now you see you squeezing in a dental appointment twice a year can save you time and money in the long run!
2. Get the Right Toothbrush
Many adults think they need big toothbrushes to reach all the corners of their mouth, but the truth is that a smaller brush head is better for cleaning all the nooks and crannies of your teeth. Additionally, you'll want to choose a brush with medium or soft bristles as opposed to hard one. Hard bristles can actually wear away at the enamel on your teeth and leave you more susceptible to decay and sensitivity.
3. Don't Forget to Clean Your Tongue
No matter how much you brush and floss, bacteria can still remain on your tongue. Next time you brush your teeth, take a few second to run your brush over your tongue to remove these bacteria. If you're really dedicated to having a clean mouth (and fresh breath), invest in a tongue scraper to get your tongue nice, clean, and bacteria-free.
4. Wait Half an Hour Before Brushing
You might have heard that you can still enjoy sweets if you brush right after, but ideally you should wait at least half an hour before brushing. Why? If the food you just consumed was acidic, it could damage your tooth enamel. Waiting gives your saliva enough time to wash away the excess food particles and neutralize the acids.
5. Try an Alternative to Traditional Flossing
Maybe regular flossing just isn't your thing. Luckily, there are multiple alternatives out there. Try out interdental brushes, floss picks, and water flossers until you find one you like enough to add it to your oral hygiene routine no matter how busy you are.
Just because you're busy doesn't mean you have an excuse to let your dental health fall by the wayside. Follow these 5 quick tips to keep your mouth nice and clean.
About the Author
Dr. Angela Courtney earned her Doctor of Dental Surgery degree from the Ohio State University College of Dentistry in 1996. She has also taken post-graduate courses at the world-renowned Las Vegas Institute for Advanced Dental Studies. Her gentle nature and feminine touch help all her Columbus, OH patients feel comfortable and relaxed at their appointments. To book your next cleaning with her, click here or call (614) 451-7393.