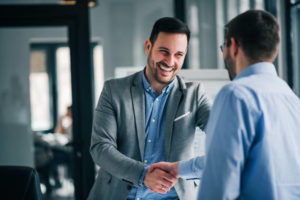 Are you struggling socially? Maybe you feel like your career has stalled? It could be the way people perceive you based on your appearance. First impressions mean everything. Although you shouldn't judge a book by its cover, simple mistakes or aesthetic flaws can make you look unapproachable. Here are 3 ways to ensure you're portraying the right image.
1. Make Eye Contact
Eye contact is a form of nonverbal communication. Maintaining eye contact shows you are engaged in a conversation and also helps you focus. It is seen as a form of respect in professional settings.
2. Stand Up Straight
Confidence can shine through your posture. Good posture is a positive body language that portrays self-assurance. Slouching or hunching over is perceived as weakness and insecurity.
3. Smile More Often
Not only can it boost your mood, but smiling is contagious. Smiling is also proven to promote your health by improving the way your body responds to stress. A friendly expression will encourage people to approach you.
Boost Your Confidence and Appearance
Your teeth can affect your self-esteem and how others view you. A person with a beautiful smile is perceived as youthful, confident, and successful.
If your smile is sending the wrong message, cosmetic dental procedures can help, like:
Cosmetic Bonding: A composite resin is shaded to the color of your enamel to blend in with your tooth when fixing minor imperfections, like decay, chips, or cracks. You can achieve noticeable results after 1 appointment.
Teeth Whitening: A whitening treatment can turn back the clock by getting your teeth up to 8 shades whiter for a vibrant, youthful smile. Your results can last for many months or years with the right care, like brushing and flossing.
Porcelain Veneers: Bonding veneers to the teeth visible when smiling corrects many issues at once, like stains, chips, and gaps. Your picture-perfect smile can last for a decade or longer without needing an invasive procedure.
Invisalign: You can fix bite and alignment problems using clear aligners for a discreet, comfortable treatment. In about 12 months, you'll have a straight, healthy smile without needing brackets or wires.
Cosmetic dentistry is an investment in yourself because it can change your outlook on life. You'll be more outgoing and confident while being more approachable. Not only can you enhance your social or romantic life, but you'll be more appealing to potential employers.
You can't put a price on the benefits of a stunning smile. You'll hold your head up high and won't think twice before showing your pearly whites because you'll look and feel your best.
About Dr. Christy Cox
Dr. Cox earned her dental degree at the Ohio State University College of Dentistry and has regularly continued her education in many specialties, including cosmetic dentistry. She can help you look and feel your best using the latest innovations in dentistry. Request an appointment through our website or call (614) 825-3873.